The BDO Lakeside World Professional Darts Championships 2018 Invitations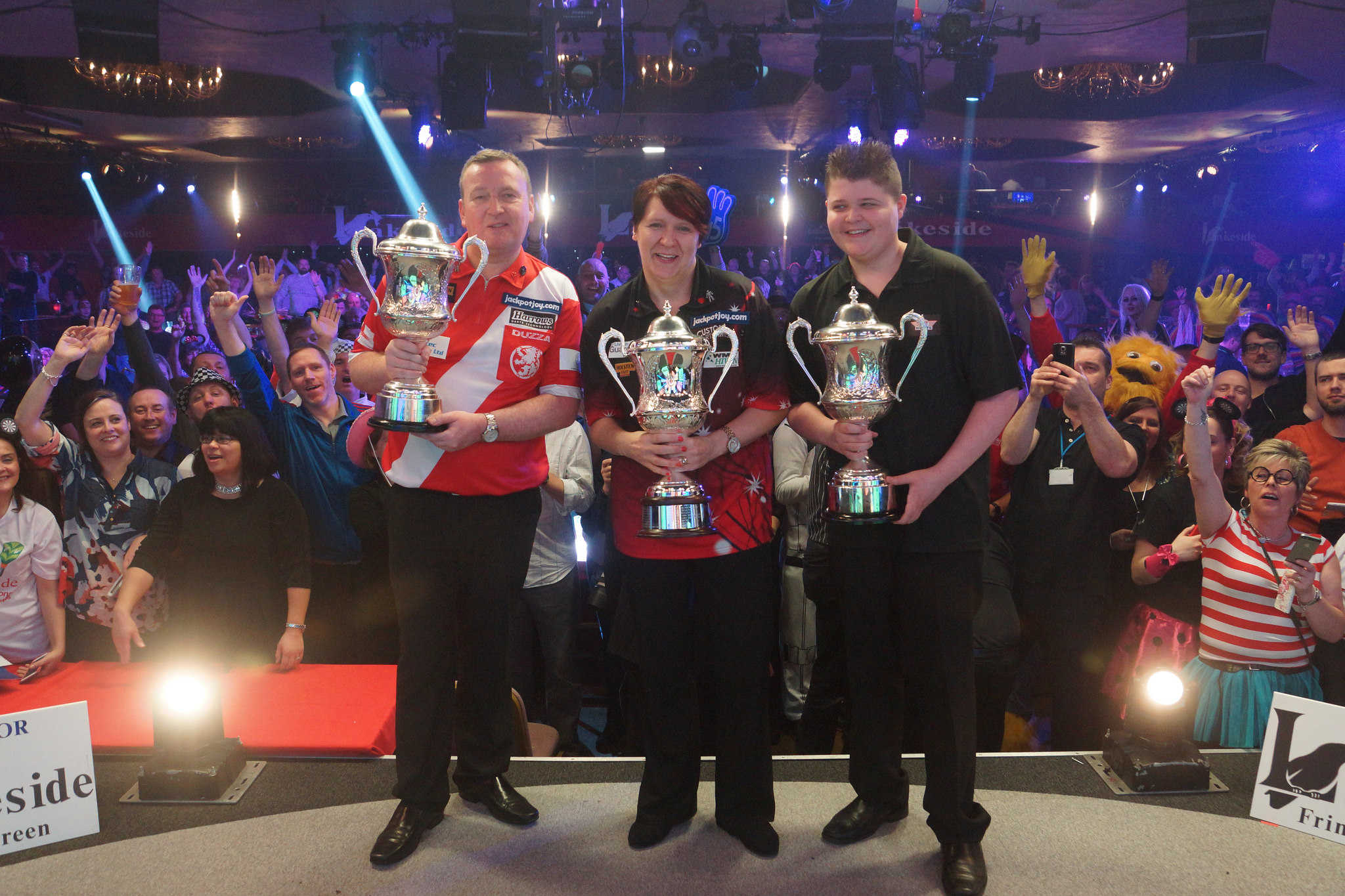 The British Darts Organisation is pleased to announce that the following players will be invited to compete at the 2018 Lakeside World Professional Darts Championships.
Reigning BDO World Champion 'Duzza' Glen Durrant returns to "the home of world darts" as the No.1 seed for a third successive year, hoping to become only the fourth man to retain the title. In second place on the seeding list is the twice Winmau World Masters finalist 'Gladiator' Mark McGeeney, with double Lakeside semi finalist 'Yozza' Jamie Hughes seeded 3 and the 2015 BDO World Champion 'Scotty Dog' Scott Mitchell seeded 4.
The 16 seeds for the men's competition include four more former Lakeside semi finalists. 'Sparky' Wesley Harms, 'Flyers' Richard Veenstra, Welsh legend Martin Phillips and the 'Dazzler' Darryl Fitton, who reached his third semi final in 2017. Two players in the top 16 will be making their Lakeside debut as seeded players, Scotland's Cameron Menzies and Belgium's Andy Baetens.
SEEDED PLAYERS
1 – Glen Durrant (Eng)
2 – Mark McGeeney (Eng)
3 – Jamie Hughes (Eng)
4 – Scott Mitchell (Eng)
5 – Ross Montgomery (Sco)
6 – Geert de Vos (Bel)
7 – Wesley Harms (Ned)
8 – Cameron Menzies (Sco)
9 – Jim Williams (Wal)
10 – Willem Mandigers (Ned)
11 – Richard Veenstra (Ned)
12 – Dean Reynolds (Wal)
13 – Andy Baetens (Bel)
14 – Martin Phillips (Wal)
15 – James Hurrell (Eng)
16 – Darryl Fitton (Eng)
Eight more players (ranked 17-24) will be drawn directly into the first round. They include two of the games great champions, 'Scotty 2 Hotty' Scott Waites who lifted the Lakeside trophy in 2013 & 2016 and triple BDO World Champion 'Wolfie' Martin Adams who is set to make an historic 25th consecutive Lakeside appearance in January.
17 – Kyle McKinstry (Nir)
18 – Scott Waites (Eng)
19 – Martin Adams (Eng)
20 – Darius Labanauskas (Lit)
21 – Conan Whitehead (Eng)
22 – Nick Kenny (Wal)
23 – Scott Baker (Eng)
24 – Wayne Warren (Wal)
A further 16 players will compete in the Preliminary Round at the Lakeside. They include the player ranked 25th on the BDO invitation table Jeffrey Sparidaans and the highest ranked player on the British Isles table (not already qualified) Daniel Day. Four qualifiers have won through the BDO world championship playoffs in Bridlington and will each make their debuts in January. Automatic places are also granted to 2017 Lakeside runner up 'Noppie' Danny Noppert and the newly crowned Winmau World Masters champion, the 'Polish Eagle' Krzysztof Ratajski.
25 – Jeffrey Sparidaans (Ned)
British Isles regional rankings qualifier – Daniel Day (Eng)
Lakeside World Championship finalist 2017 – Danny Noppert (Ned)
Winmau World Masters champion 2017 – Krzysztof Ratajski (Pol)
BDO qualifier – Chris Harris (Wal)
BDO qualifier – Chris Gilliland (Nir)
BDO qualifier – Michael Unterbuchner (Ger)
BDO qualifier – Derk Telnekes (Ned)
These players will be drawn into the Preliminary Round against eight international qualifiers. The winners of the Asian qualifying tournament and the Australian National Singles will be joined at Lakeside by the players who top each of the BDO regional rankings tables. Brunei and Turkey will have representatives at the Lakeside for the first time ever.
Asian qualifier – Pg Mohammad (Brn)
Australian qualifier – Justin Thompson (Aus)
Baltic/Scandinavian qualifier – Dennis Nilsson (Swe)
Canadian qualifier – David Cameron (Can)
Eastern European qualifier – Ümit Uygonsözlü (Tur)
New Zealand qualifier – Craig Caldwell (Nzl)
USA qualifier – Joe Chaney (USA)
Western European qualifier – Chris Landman (Ned)
Invitations will also be issued for the 2018 Women's World Championship and the BDO rankings are topped for the sixth time in seven years by 'the Heart of Darts' Deta Hedman. She will be accompanied by a world class field, including the players who challenged her in 3 previous Lakeside finals. Reigning triple world champion 'the Lancashire Rose' Lisa Ashton, 3-time former champion 'from Russia with Love' Anastasia Dobromyslova and returning for her 18th consecutive appearance, the legendary 10-time Lakeside Champion 'the Golden Girl' Trina Gulliver MBE. 2017 Lakeside finalist Corrine Hammond, reigning BDO World Trophy champion Aileen de Graaf, Europe Cup Singles winner 'Racing Angel' Sharon Prins and the newly crowned Winmau World Masters champion Lorraine Winstanley complete the list of seeds.
SEEDED PLAYERS
1 – Deta Hedman (Eng)
2 – Aileen de Graaf (Ned)
3 – Lorraine Winstanley (Eng)
4 – Lisa Ashton (Eng)
5 – Corrine Hammond (Aus)
6 – Anastasia Dobromyslova (Rus)
7 – Trina Gulliver MBE (Eng)
8 – Sharon Prins (Ned)
The unseeded players (ranked 9-14) include the 2015 runner up Fallon Sherrock and fellow England international Tricia Wright, who will be making her long awaited Lakeside debut. They will be drawn against the seeded players, alongside the two qualifiers from the BDO world championship playoffs.
9 – Fallon Sherrock (Eng)
10 – Anca Zijlstra (Ned)
11 – Paula Jacklin (Eng)
12 – Rhian Griffiths (Wal)
13 – Maria O'Brien (Eng)
14 – Tricia Wright (Eng)
BDO qualifier – Rachna David (Nor)
BDO qualifier – Vicky Pruim (Swe)
In addition to the 40 men and 16 ladies heading to Frimley Green, there will be two youth players contesting their own championship decider upon the famous Lakeside stage. Reigning champion Justin van Tergouw from the Netherlands has won his way through to the final once again, where he will face Republic of Ireland international Killian Heffernan.
The 41st BDO World Professional Darts Championships will be broadcast live on Channel 4 Television in partnership with BT Sport, from Saturday 6th to Sunday 14th January 2017. Tickets and accommodation packages are available via www.lakesideworlddarts.co.uk.